If you've been playing Mafia Wars for a while (and that can be anywhere from 2 weeks to 2 years) you probably have collected a ton of different weapons, armor, vehicles and animals. We understand that trying to keep track of everything you have can be a chore when your inventory looks like this image:
It is hard to know what you have, what you are using to outfit your 501 and what you need to get. That's what we hope to improve by doing an Inventory Revamp. Currently we are in our labs working on a solution to better organize your inventory... AND WE WANT YOUR INPUT!
Visit
the forum thread
for a glimpse of the mock-up screen shots and let us know what you think. What improvements would you add?
http://blog.mafiawars.com/2010/11/revamping-your-inventory.html
From Forum:
Greetings Mafia Fans,
As part of greater initiatives that are coming to Mafia Wars in the future we are working on an inventory revamp. This would change the current layout and design of how you see and interact with your inventory. To help us create the best design and system for you please see the images below and answer our feedback questions or input your own feedback about what you see.
How/Why do you use your inventory right now?
How and what would you like to use it for?
Do the proposed changes fulfill your desires for accessing and using your inventory?
Do you understand every component of the shown images? If not, which aspects are confusing
Would this lead to you valuing your items more or help you to outfit your 501 mafia?
Below are image mock ups
(a work in progress)
that we have created to assist us in gathering feedback, these images will change based on feedback we receive. We are working to get this delivered to game before the end of this calendar year.
Image 1: Search for Items
Find items quickly by using filtered searches. Let us know how much this would help you and what you would change about this current design.
Image 2: Quality/Rarity Key
Instantly know the value of a loot item by color coded quality guide. Do these colors work for you? Can you see a clear distinction in the color coding?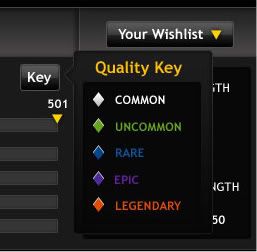 Image 3: Wishlist & Inventory Management Tools
Add and remove items from your wishlist, as well as see at a glance what your best and worst active items are so you know where to build to get stronger.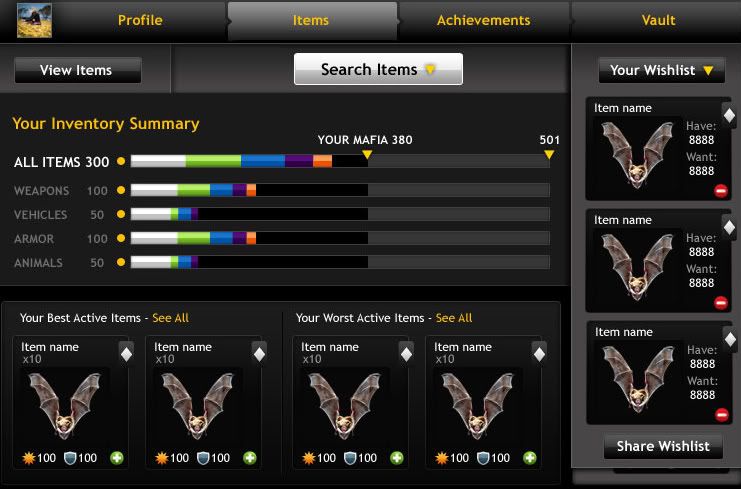 Image 4: Sorting Items
Sort your items by a variety of settings to determine best and worst items as well as a suggestion tool to help you know what items will help you gain advantage. What choices would you want on your sorting menu?
Images 5 & 6: Item Description and Purchase/Drop Info
Find out everything you need to know and more about your items, including how to purchase, add to wishlist, or gift to your mafia. What information is helpful to you and are we missing anything?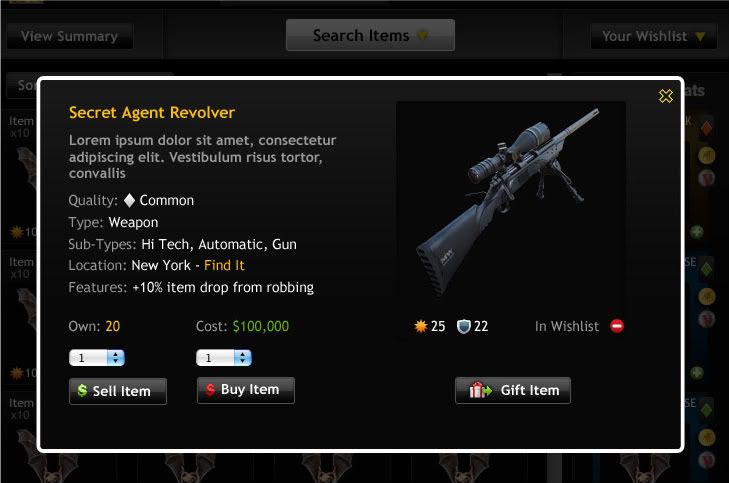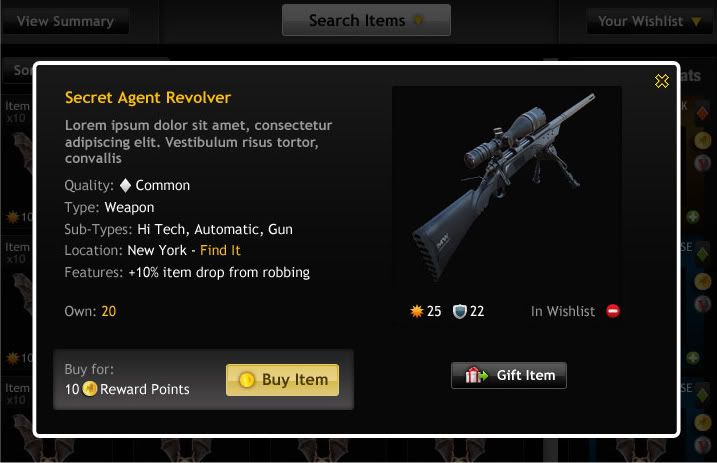 Image 7: Average Per Level
At a glance know how strong you are compared against other players your same level. Is there other information you look at when comparing your strength against another player?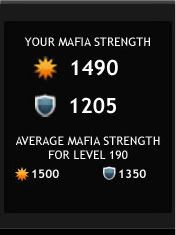 If you have feedback about any of these Images, please list the Image number when making reference to the feedback, this will help us know what aspect of the Inventory Revamp you are discussing in your post.
Your feedback helps us to improve the game, please assist us in delivering the highest quality experience to you by giving us your feedback about these suggested design changes and the functionality features.
Thank you,
The Mafia Wars Team http://forums.zynga.com/showthread.php?p=7338306#post7338306